WPA and TKIP missing after upgrading to Windows 8.1
Update – 2/14/15
Recently someone told me about an EAP-LEAP installation file that came bundled with a RealTek Windows 8.1 wireless driver package. Apparently, all that you need to do is download and install this EAP-LEAP MSI and install it on your Windows 8.1 device. Once this is completed, Windows 8.1 will magically recognize WPA/TKIP and will connect your device to the wireless network! If this doesn't work, then following the manual steps below. If the MSI works, please leave a comment below letting me know. Thank you and good luck.
Recently I found myself working on installing Microsoft Windows 8.1 Enterprise on a MS Surface (haven't been able to get a hold of the Surface Pro yet). The installation went smooth enough, however I had a heck of a time getting connected to our corporate wireless network which consists of Cisco Access Points and is configured to use WPA security and TKIP encryption. To my surprise, the Windows 8.1 upgrade seemed to have removed the ability to connect to a WPA/TKIP wireless network. This blog post explains how I was able to get my Surface running Windows 8.1 to successfully connect to a WPA secured wireless network with TKIP encryption.
The first thing I did after installing Window 8.1 was to download and install the latest Intel ProSet Wireless software. I normally download the full set of software instead of just the drivers. As of November 17, 2012, the latest version of the Intel Proset Wireless was 16.5.3.  I had to do this when I first installed Windows 8 Enterprise in order to configure the wireless configuration for Cisco LEAP, WPA/TKIP. However, installing the Intel ProSet application did not work for Windows 8.1.
After scouring the Internet for a solution, it became obvious that Microsoft had removed the capability to configure WPA security and its associated types of encryption (i.e. TKIP). While it is true that most of the world has moved on to WPA2 or better, there are still many companies who are Cisco shops that still use WPA/TKIP. While Microsoft removed this functionality from the wireless configuration UI, they apparently had not removed this capability from the operating system.  I tried several things such as exporting the wireless configuration to an XML file using NETSH and then manually editing the file to use WPA and TKIP and finaly importing it. Unfortunately I couldn't get the syntax of the XML exactly right. That was until I found a terrific post explaining how to properly modify the XML file. Below are step-by-step instructions on how to get your MS Surface or any other device running Windows 8.1 to connect to a wireless network running WPA/TKIP.
1. Run Command Line as an Administrator
2. >netsh wlan show profiles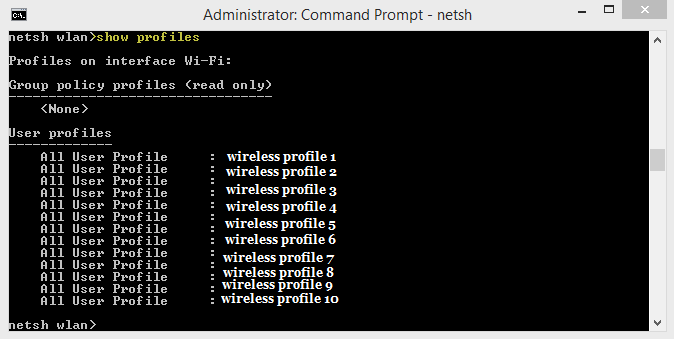 3. >delete profile name="wireless profile x"
4. Right click the connection icon in lower right corner and open Network and Sharing Center
5. Select Set up a new connection or network
6. Select Manually connect to a wireless network
7. Create a profile, and try to get as many details to correspond with your requirement such as the name and select Finish when you are complete. You will be editing the profile immediately afterwards.
8. >netsh wlan show profile <profile name you created in step 7>
without quotes this time. This should show your previous attempt at creating a profile in the GUI dialog boxes. In my case, it had WPA2 and AES but it needed to be WPA and TKIP. I also set my authMode to userOnly.
9. netsh wlan
10. netsh wlan> set profileparameter name=<profilename> authentication=wpa encryption=tkip authMode=userOnly
11. Now click the connection icon, and connect to the network. It should look a little different this time. Hopefully you will be able to connect.
12. netsh wlan> export profile name=<"profile name">
This will export the profile safely to a file and store it on a network drive or back it up for future use. You can use this profile for any other Windows 8.1 wireless devices you plan on connecting to your corporate wireless network. To import this file use the following command:
netsh wlan add profile filename="path\profile.xml"
A big Thank You to the person who posted the solution below. Connect with me at 

Google+

!
References
http://social.technet.microsoft.com/Forums/windows/en-US/290c63b4-ce04-4483-a047-e1000c7d7699/wpa-security-types-are-missing-after-upgrading-to-windows-81?forum=w8itpronetworking