Windows Update Never Stops Checking for Updates
Have you ever gone to apply the latest Windows updates to your computer and the Windows Update never stops checking for updates? The little bar just keeps going and going but nothing ever happens? Just google "windows update stuck" or "windows update hangs" and you'll find PLENTY of reasons why this might be happening and how to potentially fix it. Some of the blog posts and articles are well written and very detailed but some of them are pages long. I'm not going to go into the 100 different ways to troubleshoot this issue but instead I'm going to offer a simple, quick and painless solution to an all too common of a problem. Let me preface this by stating that the steps below will NOT fix everyone's problems with this particular issue but it did it for me and I was surprised that it did.
When checking for Windows updates hang and never finishes do the following.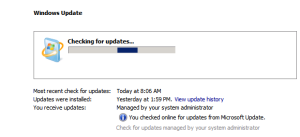 Open Control Panel
Select Notification Area Icons
Check the box for Always show icons and notifications on the taskbar and select OK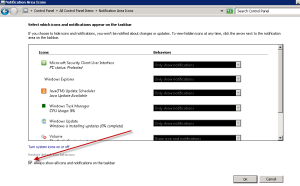 Close the stuck Windows Update check
Open Control Panel and select Windows Update then click on Check for Updates
This worked for me! Don't ask me why, it just did. Also, this wasn't a one-trick tip, this has worked several time for me on different computers / servers. Sometimes I think the Microsoft engineers are just having some fun with us! If this little tip worked for you, let us know!
One more note…. If the windows update service is actually working but is taking up too much CPU and/or memory, please see our article Windows Update Service  Utilizing High CPU Memory.
Thank you and good luck.