Access denied on USB devices
The other day, my daughter called me from her college dorm. All of a sudden, her roommate couldn't connect her USB flash drive to her HP laptop. The error message she was receiving was Access Denied. It didn't matter what type of USB device is was (thumb drive, DVD, disk drive). There was a little panic setting in since her roommate really needed to access her USB drive to complete her homework. If you receive access denied on USB devices and you have a HP laptop, try uninstalling any proprietary device management software that may have come pre-installed on the laptop or desktop. You don't need it, trust me.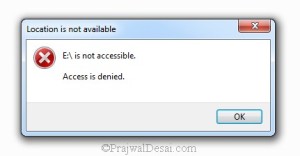 The Windows Error Message may read something like "You don't currently have access to open this folder". If you press the "continue" button, you then get the message "You have been denied permission to access this folder", and "To gain access to this folder you will need to use the security tab". However, there is no "security tab" in the properties menu for the USB thumb drive.
You've already tried logging on as Administrator but that didn't change anything. You've also verified that your USB flash drive is fine by plugging it into another computer and it worked! What the hell man! Why?!
Well, I can't answer "why" but if you follow the steps below to uninstall the HP Device Manager from your HP laptop, I'm pretty sure your "Access Denied" woes will magically disappear.
Open Control Panel and select Programs and Features
Look for a program name HP Device Manager or something close to it
Highlight the program and select Uninstall
That's it. This post specifically references HP laptops but it may apply to other models especially if those computers came with a bunch of pre-loaded "bloatware" which may have included it's own device manager.
Good luck.
References
HP Forum